Neon Light Animation:
1. Type the text with black color on white background
2. Make the duplicate of Text layer

3. Merge the bottom text layer with white background
4. Hide upper text layer and follow the Neon Effect procedure on the bottom layer

5. Create a New Layer. Place it just below upper text Layer.
Fill the newly created layer with white color.
Merge the Text layer with white background and follow the same Neon effect.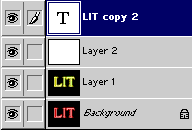 6. You can type the text with slightly bigger size to add flavor to animation.
7. You can make as many layer as you want with different colors.
8. The layer palette of photoshop will look like this. Save your file.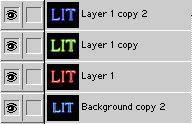 9. File > Jump To > Image Ready 3.0
10. Image Ready 3.0 will get opened.
11. Click the black triangle in the animation Palette (marked with red circle) .
Select " Make Frames from Layers ".

All the layers will get displayed in the animation palette in the form of frames.
12. The Animation Palette will look like this.

13. You can change the positions of the frames to get different types of effects.
14. Set the timings for frames.
15. Set the no. of time you want to play the animation.
16. Check the performance in the browser
File > Preview In > Click the browser you want
17. Save the file with File > Save Optimized or File > Save Optimized As