The Slice Tool:
In this Tutorial, I will show you the technique of slicing using The Slice Tool.
--------------------------------------------------------------------------------
There are 3 techniques available for slicing images in ImageReady. A quick look at the Menu displays the available methods. (Right-Click on this Menu bar below and Save Picture As...).

1.) Open ImageReady 3.0. Open Menu file. (We will also need the slice palette visible so go to View > Slice). Once in ImageReady, the image will turn to a default slice.

2.) Bonus Tip: Click on Slice tool in the tool palette and hold mouse button until the pop out menu appears. Click on down arrow.

A mini tool palette will be created with only the Slice tools in it! You may move it any place you like.

3.) Drag over the area to create a first slice. ImageReady automatically assigns a numeric value to the slice, as displayed by the blue rectangle in the upper left corner of the slice.

4.) Repeat Step 3 until all of the slices have been made.

Now we will assign names, links and targets if neccessary to each slice.
5.) Select the Select Slice tool. Go back to the mini palette we created in the beginning and click on the other side.
6.) Select slice 01, and in the Slice palette, give it a name. I used the word header. As you have probably already noticed, selections are now highlighted in a contrasting color.
7.) Repeat Step 6, assigning each a name, link and target if needed. (These are our links).

8.) Next, Go to File > Save Optimized As... (a dialog box will appear.) Create a new folder and name it Slicing Graphics. Open the folder. Be sure you are saving HTML and images (*html). Hit OK.
9.) Now, Go to File > Open. Locate the new file and open it. ImageReady places all the slices in a folder called images, and creates an HTML file.

10.) Click open the images folder to view the contents, these are your sliced images.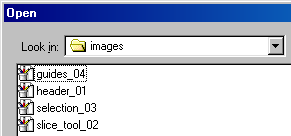 11.) Now hit Cancel to close. Drop ImageReady and locate the "Slicing Graphics" folder on your hard drive and open it.
12.) Click on the HTML file. When the browser opens the page, right-click on a blank area. ( A pop-out menu will appear). Go to View Source. Copy & Paste the table between the arrows to place your new graphic.