Roundtrip Graphics Editing with Dreamweaver and Fireworks
Select the graphic that you would like to edit. Notice that I want to modify the graphic that says YourSite. This image is named header/r1_c1.jpg. Equally important is the source file, which is biz_header.png. It is a good idea to modify the source to get the best quality image, and provide flexibility for future graphic edits.
If you do not see a source png, use the folder icon to browse for the correct png file. Click the Edit button.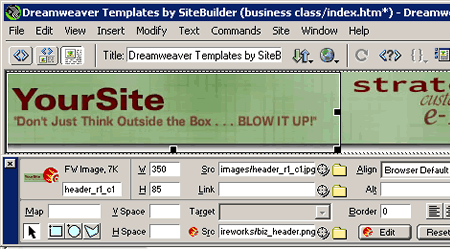 Once you click the Edit Button, this will launch Fireworks. Notice that the entire png file is opened in Fireworks, not just the image we selected (header_r1_c1.jpg)
Note: If you do not have the original png file, Fireworks will offer you a browse window, simply click cancel and the gif or jpg version can be edited.

Double click the text box that reads Your Site, and edit the text to the name of your company, click OK.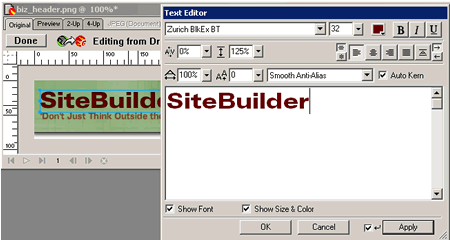 Finally, click

which is your ticket back to Dreamweaver. Let's go take a look.
It looks like we're rockin'. Notice that the image and source file names stay the same, and our header graphic has been updated with the name of our company.