Define a New Site in Dreamweaver
The first step in building your website is Defining Your Site. There are several Categories in the Site Definition window; we will focus our attention on the Local Info and the Remote Info. This is key since we will be building our website on our local computer, then publishing it on a remote webserver.
Let's start by launching Dreamweaver. Open the Site Definition window by selecting Site > New Site from either the Site window or a blank document.

We'll spend the next couple of minutes here in the Site Definition window. In the first part, we'll define the Local Info as follows:
Site Name: Make up an intutive name that makes sense to the people who will be working on this website.



Local Root Folder: Use the folder icon to browse to the folder where your files reside on your local computer. Because I have installed PWS (Personal Web Server) on my computer, I generally keep my websites in the C:\Inetpub\wwwroot in their own folder. If you haven't installed PWS, you should have a designated location for all of the websites that you work on, like C:\websites. For example, I may have 20 websites that I am working on, so for organization, each would have its own folder under C:\Inetpub\wwwroot, in this example the contents of the new site are in the sitebuilder folder.

HTTP Address: This is the final destination of our website; In other words, when I transfer the publish the SiteBuilder website to the web, I will access the website by typing http://www.sitebuilder.ws. Additionally, Dreamweaver will manage our relative links throughout the site.
Let's move on to the next step by clicking Remote Info in the Category column.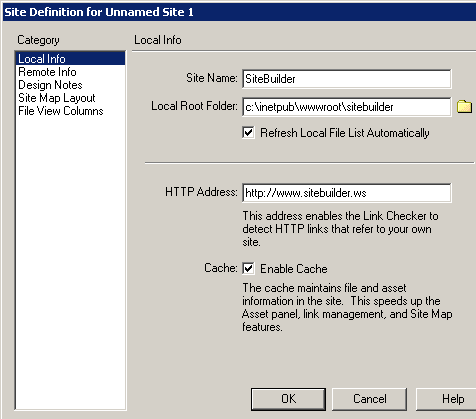 Now we will define our Remote Info. In other words, the place where our website will be hosted. It could be any number of places, but most likely at an ISP, or on your company's webserver. In this example, we will be using an ISP and publishing our web pages via FTP.
One of the cool things about Dreamweaver is that it has a FTP client built right in, which makes it easy to publish web docs. By default, FTP is set to disconnect at 30 minutes. You can change this setting by going to Edit>Preferences>Site.
(Note: these settings will vary depending on where your website is hosted, your ISP or Web Administrator should provide the FTP Host, Host Directory, Login, and Password information)
Access: Select FTP from the drop down box.
FTP Host: Enter the hostname or IP address of your FTP site
Host Directory: Make sure that identify where you content will go. This website will go into the root directory. My isp has assigned my websites root directory as a folder called web, therefore, the setting is web
Login/Password: Enter the information that your ISP or System Administrator gave you.
Check In/Out: This is a good feature if your are collaborating with other web professionals on this website. Since we are working alone, we will leave this box cleared.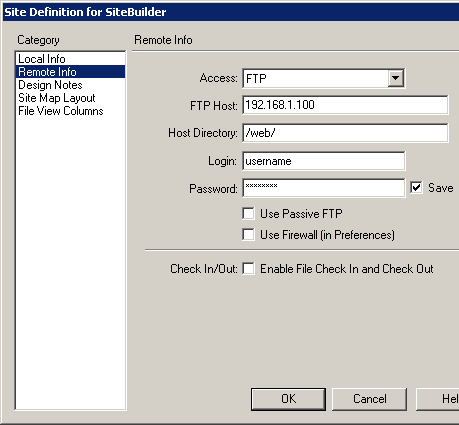 Now that you can have defined your website with the Local and Remote Info, you can publish your work and view it live.