CorelDRAW 9 Creating Seamless Tiles (Bitmaps)
The creation of seamless tiles is very easy in CorelDRAW 9. Seamless tiles can be used to create interesting fills for text, objects, and backgrounds. You can use bitmap images to create seamless tiles in CorelDRAW 9.
Below is the original image I started with. The number of different tiles that can be created with one image is almost infinite.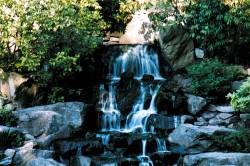 For this tutorial I started with a custom canvas size of 1.11" X 0.737". My bitmap image size is 250 X 166. Import your bitmap image into CorelDRAW 9. File>Import.
Go to Bitmap>Plug-ins>Fancy>Terrazzo
You should see a window similar to the one below. You'll see the original image, the symmetry (of which there are many choices which can be made by clicking on the symmetry box), a representation of the tile, its size and the result.
In the Original box you can see the outline of a shape. That is the Whirlpool symmetry. Below that is the feather slider. You can slide that back and forth for different effects. You can also move the outline in the Original box also to achieve different effects.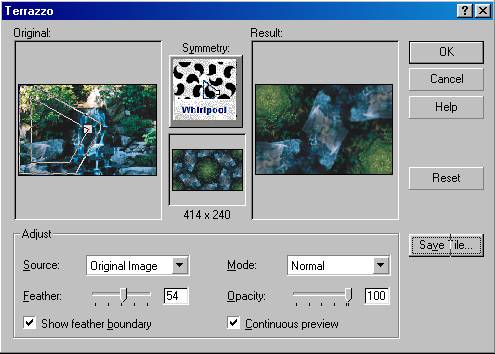 Once you have the desired effect you only need to click on the Save Tile button to save the tile wherever you want on your hard drive. Tiles are saved as .BMP files and can then be used to fill objects in CorelDRAW 9. Below you will see several different tiles created with the exact same original image using different symmetries and below each tile a blank table showing the seamless quality of each tile.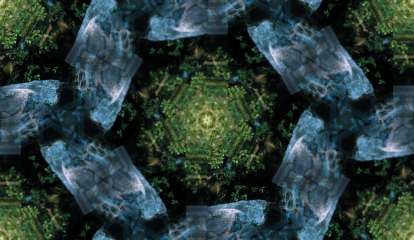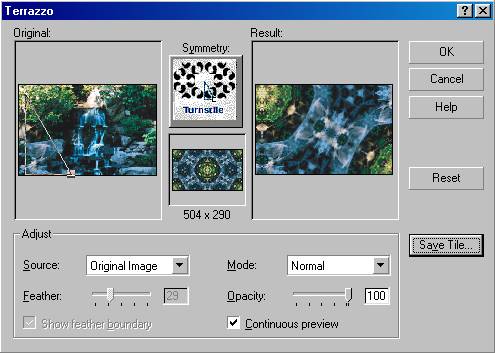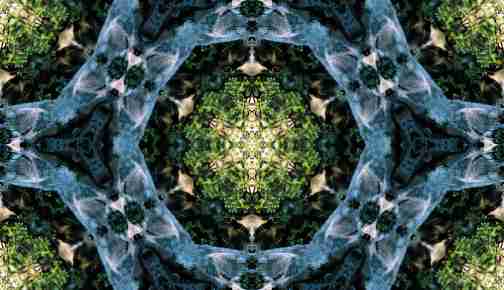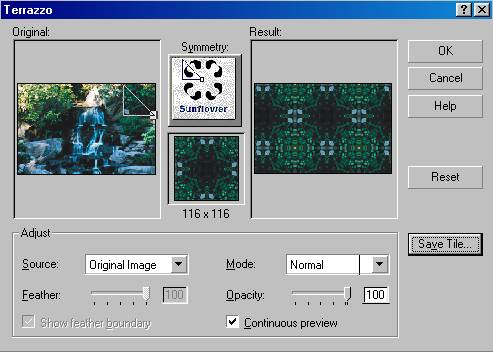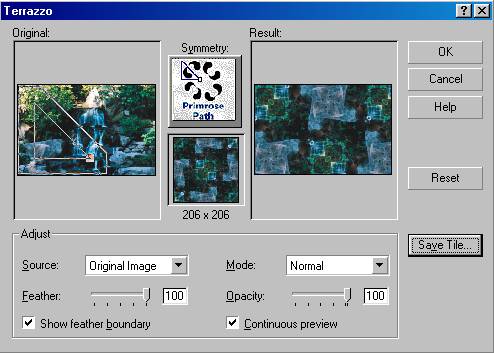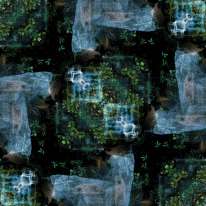 The image below was created with the tile above.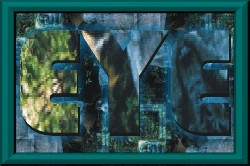 After I created and saved the tile, I clicked ok on the Terrazzo window to fill my original bitmap image to the tiled image. I then add the text using Bauhaus 93. I filled the text with my new tile (making sure the text is selected first) by using the Fill tool>Pattern Fill. Check bitmap and press the load button. Navigate to the file you want to use as your file and select it. Click ok. The text was then filled with my tile pattern.
To raise the text off of the background a little, I pressed the "+" button on the numeric keypad. That created a copy of the text. Next I hit the "tab" key to selected the bottom copy of the text. I chose a very dark gray for a fill for that and then using the left and down "arrow" keys I moved the bottom text slightly. That gives the text a slight raised effect without removing the blending of the background to the text. I then added a very faint blue drop shadow to the text to help it stand out just a little bit more.
Sometimes subtle text effects are just the ticket and this technique allows for such subtle effects.